FluentCRM – Email Marketing and CRM Plugin
FluentCRM is a brand new email marketing automation and self hosted CRM plugin for WordPress. Whether you want a centralized console for all your customer information or a straightforward approach to grow your subscribers, FluentCRM has something for everyone. You can effectively use it for your marketing campaign and scale your business.
You can add contacts manually, or import them directly from a CSV file, or WP Users, WooCommerce customer database, etc. There's intensive detail about each individual contact, that will allow you to design funnels keeping each user in mind.
Moreover, you can track every single email by contact level. And for seamless communication among team members, you can attach notes like meetings logs, offline calls, media files, etc to each user. This brings other team members up-to-date without any time loss.
FluentCRM: What's New?
Yes, yes, we know. 500 contacts and 1000 emails, and may be a couple of integrations to go with it. This is the sorry picture that comes with most CRMs in the market today.
But what if you had full control? Add as many contacts as you wanted, send as many emails as you want? Lighten it with emoji or leave someone out? Yes, you get that too! FluentCRM offers you full freedom in how you want to run your business. It is self hosted so you don't have to worry about data breaches either.
Now that you are the king, (or queen) of your marketing world, let's see what else you can get to get the automated wheels running.
Built-in analytics & dashboard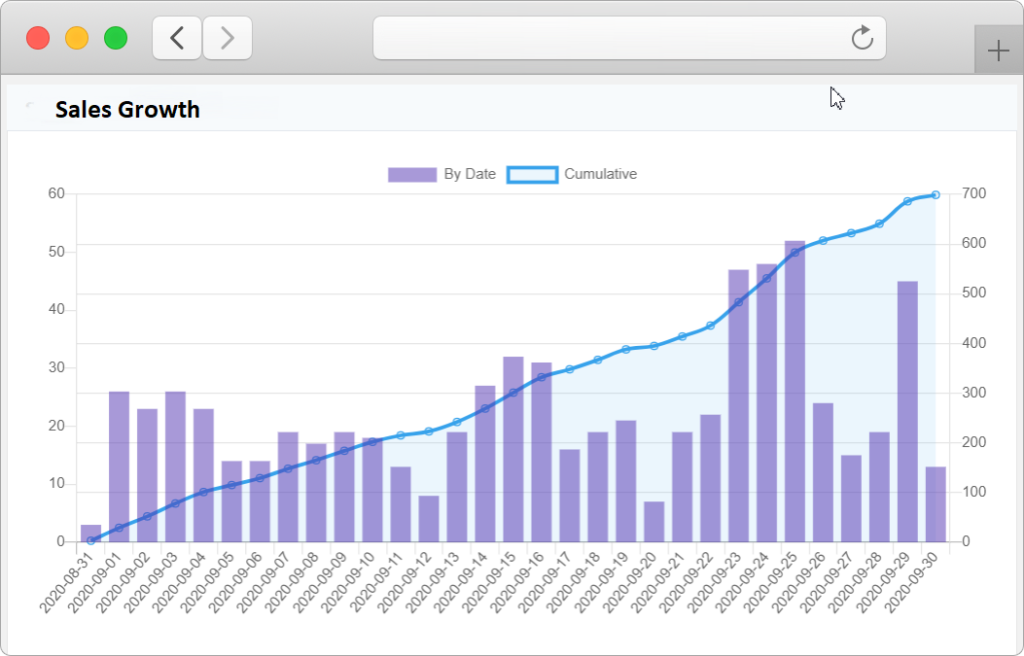 A CRM software has a lot of things to do. You can use it add contacts, automate email marketing campaigns, deploy funnels, gain insight into customer journeys, etc. If there is no smart dashboard to present all this data in a clean way, everything becomes confusing and chaotic.
FluentCRM understands the significance of a neat dashboard and analytics. Hence, it is adequately armed with clean analytics that present overviews using crisp numbers and graphs. A quick glance at a graph, or a chart will be enough to grasp the state of the marketing campaign, and concrete numbers are there to guide you in details.
Everything from offline calls, to activity logs, to purchase history, to email click rates, are noted and properly presented. There are numerous metrics to make decision making easy at every point of marketing.
Customer segmentation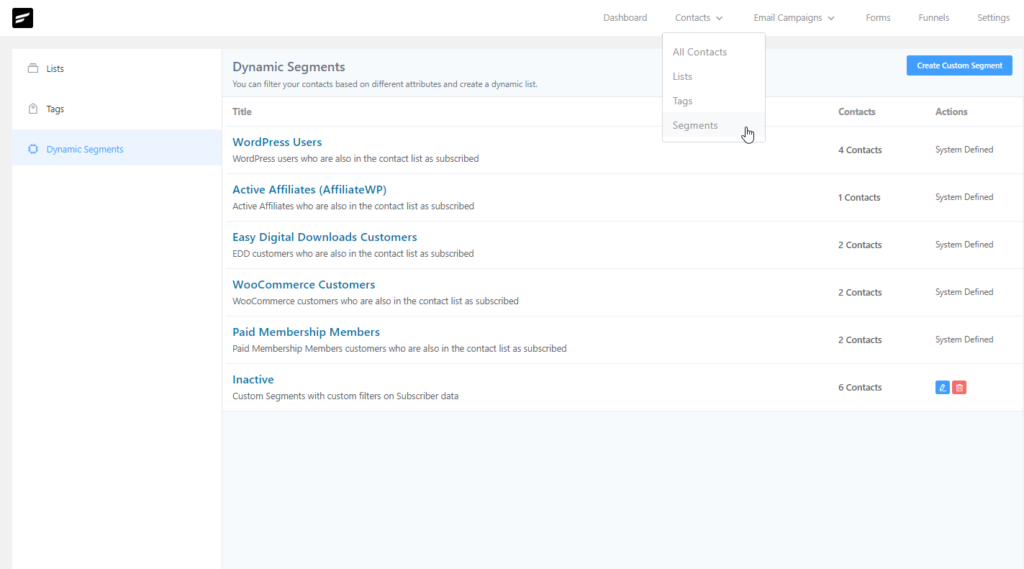 A heap of contacts can quickly become overwhelming. And not to mention, treating all the contacts on your subscribers list can also be counterproductive. A useful trick here is segmenting contacts into various chunks so you can approach different portions differently.
You can do this with FluentCRM by creating lists and tags. Create as many lists and tags as you need and assign contacts to them. This will help you add layers to your contacts and filter them when need arises. You can collect and manage unlimited contacts like this.
For instance, when you have to run an automation funnel, include the lists, or tags you want and all the contacts that fall under those particular sections will be added. FluentCRM also adds a unique turn to this. You can also exclude contacts based on lists and tags. So if you want to send emails to all of your contacts, but feel like some of them can sit this out, you know what to do.
Email marketing campaigns

A crucial feature of powerful CRM software is marketing automation. Emails are still one of the most profitable and popular mediums to conduct marketing campaigns. FluentCRM makes email marketing easier with trouble-free email copies, detailed stats, and quick automated sequencing.
You can craft unlimited enticing emails using the Block Editor. Whether you should go for a minimal layout, or an extravagant one, is up to you and your customer. What FluentCRM does is offer you enough functions so you can go either way. Add columns or images, and personalize using dynamic shortcodes. You can also add a lighthearted touch using emojis.
All your crafted email copies will be stored in a single page to provide quick navigation. You can send emails in bulk to a number of contacts with the help of lists and tags. And for a greater impact, triggers can work wonders. Schedule emails for a specific time or stage of the customer journey, and sit back.
Check the effectiveness of your email marketing campaign with the detailed reporting. The open rates, and click rates will give an overview of each campaign. You'll also get to pick out the contacts who responded to these emails.
Marketing funnel builder

Designing a high converting customer journey can be the make or break for your business. You can do that with FluentCRM's powerful funnel builder in just a few clicks. Configure your funnel to kick off at various user actions like sign up, form submission, product purchase, course enrollment, etc.
By deploying multiple funnels aimed at numerous stages of the customer journey, you'll be able to cover your entire audience base, and treat them all uniquely as well. Moreover, there are also more triggers designed for specific customer journeys as you go down those roads, like WooCommerce, LMS, etc. Just configure and deploy.
Even a simple funnel, when executed correctly, can help you scale your business. Depending on how you intend to use it, an automated funnel can work for lead generation, upsell, etc. This all results in an increased revenue stream and better organization of your business.
Integrated opt-in forms

The significance of opt-in forms in the modern world is tremendous. They help you gain express consent from your subscribers. This is vital if you want to steer clear of any possible data breach. The GDPR imposes heavy emphasis on consent, before collecting and storing user data.
If you want to stay in clear water and away from any lawsuit, it is advisable to gain consent beforehand. Moreover, another benefit of opt-in forms is that, because the user is given a chance to confirm their wish to join your list, only the people already interested in your brand are added.
This saves your time and resources from being wasted on unresponsive contacts. It is very easy to enable opt-in with FluentCRM. The forms automatically come with a checkbox and all you have to do is check it. Use the forms as a trigger and your post form submissions will be automated. Moreover, forms can also be used to segment your users.
Third party integrations
FluentCRM Pro offers even more functionality. You can expand the horizon of your marketing by teaming up with powerful plugins like WooCommerce, LifterLMS, Fluent Forms, etc. You can use them to run funnels, marketing automations, segment contacts, etc.
FluentCRM currently offers the following integrations. Needless to say, more are on their way.
WooCommerce
LifterLMS
Easy Digital Downloads
LearnDash
Paid Membership Pro
WPFusion
Fluent Forms
AffiliateWP
User Registration Trigger
Uncanny Automator (Coming Soon)
WPAutomator (Coming Soon)
FluentCRM in a nutshell
This CRM software is the brainchild of the ninjas behind other powerful WordPress plugins like Fluent Forms, Ninja Tables, WPPayForm, etc. These plugins should be testament enough for the authenticity and devotion that FluentCRM vows to provide. Built with VueJS and WP REST API, this super fast CRM system will surely solve all your marketing problems and provide better and more seamless solutions to each of your worries.